All flowers are not born equal when it comes to flower pressing. Some flowers are a pleasure to work with while others are most unobliging. The trick with flower pressing is to know what works and to avoid what doesn't.
You don't want to spend hours experimenting only to find out after weeks or months that all your efforts have been reduced to a pile of black mouldy rubble. And I speak from experience!
It's so much better to know right from the start what will bring success and what won't.  And that is why I am sharing my experience with these 8 flowers that will be the mainstay of your designs.
If you've done any flower pressing before, you will have discovered that many flowers lose their colour after pressing. This is the major problem that flower pressers face. Fortunately there's a way to get around it.
It's helpful to know that there are certain flowers that are ideal retainers of colour while others simply fade to a dull brown. So before you start trying to press everything you see, it's important to know which ones keep their colour and give the best results – and which ones you should try to avoid.
Flowers that keep their colour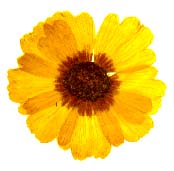 The most useful flowers for flower pressing are the ones that have been proven to give the best results. And when we talk about the best results we are referring to the following:
The beauty of the pressed flower and how similar it is to the original fresh flower;

The colour of the pressed flower and how long it lasts.

The quality of the pressed flower – that is if it can be handled without breaking after pressing.
I have found the following flowers to be the most reliable as they generally conform to all three requirements.
Coreopsis, Cosmos, Hydrangea, Larkspurs, Montbetia, Nemesia, Plox drummondi and Violas.
These flowers will make up most of your design. They are also larger than the tiny sprays that we use as fillers.
Full details of Main Flowers, Fillers and tendrils are described in detail in the Flower Pressing Secrets Course
What are the Best Flowers for Pressing?